Hawthorn, a beautiful suburb of Melbourne, has a very special place in CMA's heart. It's the stomping grounds for much of our best work and many of our customers, which hold a special place in our hearts. We've worked with many of its residents and businesses and have become known throughout as a trusted company who gets quality jobs done fast with no errors.
We frequently have to work around circumstances over which we, or our customers, have no control. These can be heartbreaking. Recently Mother Nature had her way with some water damage in one of our favorite Korean restaurants. Broken roof tiles caused the ceiling to totally collapse, rendering the restaurant inactive and unsafe. The water damage meant that the establishment needed to completely shutter while we got in there and fixed things up. We knew that this would be a timely challenge and wanted to ensure that the family could get their restaurant back open as soon as possible.
CMA is always up for a challenge. Take a look this picture of the team in action. You can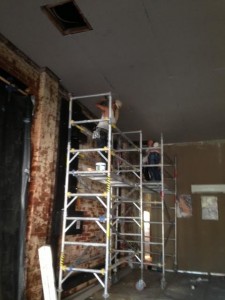 see that the damage was extensive. However, we appreciate tight timelines and see them as personal challenges. The end result of this project was a brand new roof, a tighter and safer environment for the citizens of Hawthorn to enjoy delicious Korean food in peace and happiness. We were able to remedy all damage and bring this restaurant back its original glory in two days.