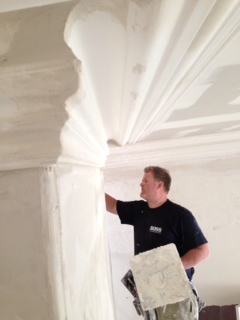 Malvern is an affluent suburb in Melbourne, about eight kilometers south east of the central business district in Melbourne. Malvern is full of upscale boutiques and restaurants. The city's attractions also include beautiful Victorian parks, gardens like the Malvern Gardens and well-maintained Victorian homes.
This project revolved around one such beautiful and well-maintained 120-year-old Victorian home. The owners were looking to refurbish and update it, out with the old and in with the new old, so to speak. When refurbishing a Victorian home, we're not trying to update it, we're trying to highlight its former glory.
CMA went to work. Highlights on this property included Victorian gutter mouldings and cornices throughout the ceilings. A cornice, ledge in Italian, is any horizontal decorative moulding that crowns a building. The mouldings particular to the Victorian era are extremely intricate. Whereas contemporary gutter mouldings have been streamlined for a more simplistic look, the Victoria era was all about detail and decadence. They're true pieces of art and in order to restore them properly; adequate time needs to be given. The same is true for the cornices.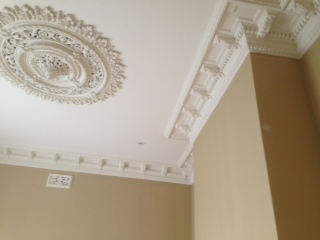 More historic homes need to be approached extremely carefully. There's a lot of additional homework that needs to be done in advance of the hands on work. All architecture is valued, and we treat every home with the utmost respect. However, as homes from this timeframe become more and more rare, they need to be treated with additional care. All flooring needs to be well protected before any work can take place. Ceilings need to be suspended and checked to ensure that they're straight. The same is true for the hanging beams, they need to be removed and re-attached, as homes from this era frequently have slants.
The result is a work of art, returned to its former glory.