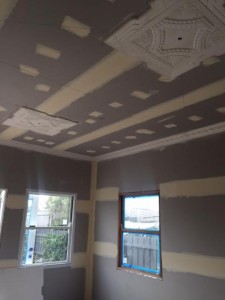 Historic, period homes are both a blessing and a curse. On one hand you've bought a piece of history, with so many stories of the generations that lived there before you. Historic homes tend to be
higher in value
, especially if you've maintained period architectural features in good state.On the other hand, they can be quite a money pit, again- especially if you've maintained the period architectural features in good state. Taxes on higher valued homes may increase exponentially over time. The
plumbing
will definitely need to be updated, as will most likely, the insulation of the home. Why do you think so many old homes are used as haunted houses? The creakiness and drafts are due to lack of insulation.
But if you're willing to put in the time and the effort (and CMA Plastering always is), they are so worth it. This house in
Coburg
is the perfect example. It required all new plastering, a feature wall of brick, a rear extension, and ornamental cornices and ceiling panels. You've seen examples of our work on ornamental cornices and ceiling panels before. They're features that get us really excited because of the precise art that's involved. When we plaster, we plaster for sturdiness, and for longevity. When we get to work on the small aesthetic touches that make the home unique, we take pride in our work.
Extensions to period homes can be tricky. You want to maintain the look and feel of the home but bridge it effectively with modern amenities and comfort. This was a great example of CMA executing such bridging.
Feature walls
are another challenge, but a very rewarding one. You want to draw the eyes to them, but ensure that they're not such a jarring difference to the rest of the build that they look out of place.
A great example of multiple strengths of CMA Plastering. Reach out to us with any questions, or how we can help with similar work on your business or home.